Growth Through Effective Tax Planning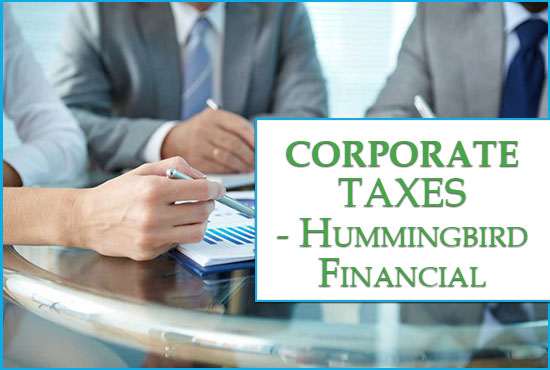 Your financial goals are paramount to a better future but sometime getting the time to plan is hard. At Hummmingbird Financial Corporation, we can help you to ensure your money is working as hard for you.
Tax planning and preparation
Budgeting and cash management
Retirement planning and investment
Education & emergency savings planning
Insurance and risk management
Mortgage advice and debt management
Estate planning
Even while you sleep, we will select the best performing and most tax efficient solutions.
CORPORATE TAX RETURNS
Did you know that all resident corporations, with a few exceptions, must file a T2 corporation tax return each year, even though the might not have a tax liability?
Small businesses contribute an average of 30% to GDP Canada-wide. At Hummingbird Financial, we recognize the importance of small businesses to the Canadian Economy. That's why we specialize in services to small business clients who may not have the knowledge or resources to prepare and file their corporation tax returns.
According to the June 2016 Key Small Business Statistics publication by the Ministry of Innovation, Science & Economic Development Canada a small to medium size enterprise (SME) is a business establishment with 1–499 paid employees. A small business more specifically has 1 to 99 paid employees. 2013 data shows that in 2013, the total number of SME births was 78,430, compared with 83,240 deaths, which resulted in a net decrease of 4,810 businesses. With many small businesses failing each year there are several strategies we can share to help small businesses become successful.
The Canada Business Network provides some helpful advice to small business owners which would help them to avoid failure:
Understand your business finances, such as cash flow and handling credit.
Develop a good marketing and business plan that considers customer needs, competition, pricing, and promotional strategies.
Have a good working knowledge of business law or hire a lawyer.
Keep a good inventory of your products or services and your existing customers.
Supervise, train, and motivate your employees.
Make sure you have the experience, expertise and talent to run your business.
Plan every part of your business from start to finish.
Know your market and define how much of it you will be able to capture.
Make sure you are offering a product that is unique and competitive or at a lower cost than that of your competitors.
Don't under-estimate your expenses and over-estimate your revenue.
Make sure you have some cash reserves or a line of credit to help you get through slow periods.
Let us help your business find the path to sustainability and profitability.
GST/HST RETURNS
Hummingbird Financial is here to help you understand your tax obligations.
The fact is that most, if not all, the information you need to properly file your GST/HST return is available online. As busy business owners, you may not have time to dedicate learning specialized accounting procedures. That's why many small business owners choose to leave the hassle to us. We have over a decade of experience assisting clients with their GST/HST returns. We guide you in areas such as:
Handling your GST/HST returns online
How to get GST/HST returns
Methods to file GST/HST returns
When to file GST/HST returns
Consequences for filing a GST/HST return late
Next steps after CRA receives your GST/HST return (including What to do if you have an amount owing and What to do if you want to correct a GST/HST return)
When to expect your refund
How penalties and interest are applied
How to make a voluntary disclosure
Support CRA offers to help small businesses
How to prepare for a GST/HST audit
What to do if you have a complaint
What records to keep
PAYROLL RETURNS
Did you know that you must make deductions on amounts you pay if you are an employer, a trustee, or a payer? After you have made the deductions of your employees' CPP contributions, EI premiums, and income tax, you must remit them along with your share of CPP contributions and EI premiums to the CRA. You must report these remittance amounts on the appropriate information return.
You need to understand your responsibilities as an employer and understand how payroll works. If you do not understand the steps in the payroll process, you may be fined for penalties, incur interest, or suffer other repercussions. We help you to understand your responsibilities as an employer and help to keep you compliant with the law.